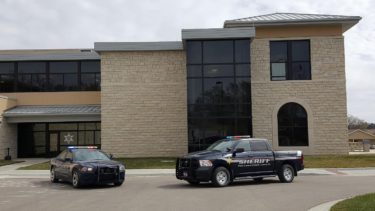 The body of the man involved in a law enforcement chase a nearly two weeks ago has been recovered.
The Pottawatomie County Sheriff's office announced Tuesday morning that on Monday the deceased male individual was recovered from the Kansas River approximately 1 mile East of the Belvue River Bridge. Family members had identified the man last week as Tyler Gibson of the Topeka area.
A release from Pottawatomie County Sheriff Greg Riat indicates the Pottawatomie and Wabaunsee County Sheriff's Offices conducted another search of the river Monday. They were aided by a local Wamego resident with an air boat and years of experience on the river, the Belvue Fire Department, and the help of Team Watters Sonar, a water recovery expert from Illinois.
Team Watters Sonar had been recommended by the family, and had volunteered to assist with this search. During the search the deceased male individual was located near the bank on the North side of the river. The individual was recovered and was transported to Kansas City for a forensic autopsy.
The release goes on to say the deceased individual found is believed to be connected to the chase on April 5th in which a suspect jumped from the Belvue River bridge into the water. While officials are still declining to release the name, Tyler Gibson's family had announced last week they believed the individual was their relative.
This search is one of several that was a combined investigative effort by the Wabaunsee County Sheriff's Office, the Pottawatomie County Sheriff's Office, Kansas Highway Patrol, and the Kansas Department of Wildlife and Parks. According to Sheriff Riat, these searches included numerous searches by boats on the river as well as by aircraft from the Kansas Highway Patrol.
The search Monday night started at approximately 5:30 p.m. , and concluded around 8:00 p.m.
The post Body of missing man found in Kansas River appeared first on News Radio KMAN.
Source: KMAN Local News