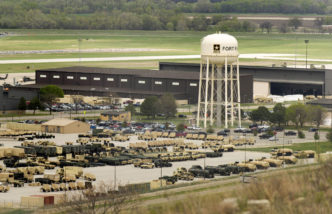 More than 3,700 Soldiers with the 1st Armored Brigade Combat Team, 1st Infantry Division, are set to return soon from a nine-month deployment to South Korea.
The "Devil" brigade deployed to South Korea in October 2016 as part of a regular rotation of forces in support of the Republic of Korea – U.S. alliance under the 2nd Infantry Division. While deployed, the 1st ABCT trained closely with their South Korean counterparts in order to deter North Korean aggression and provide security to the Korean peninsula.
During the deployment, the Devil brigade conducted multiple training exercises just miles from the demilitarized zone. The exercises included squad-based live-fire exercises, M1 Abrams tank gunnery qualification tables, joint live-fire exercises with other 2nd Inf. Div. elements and the U.S. Air Force and, most notably, three battalion-level exercises focused on counter-weapons-of-mass-destruction operations.
During one counter-WMD exercise, Warrior Strike 7, more than 90 Soldiers from 1st Battalion, 16th Infantry Regiment, 1st ABCT, conducted a ship-to-shore air assault from the Dokdo, a South Korean navy vessel.
As part of a bilateral agreement between the U.S. and South Korea, the 1st ABCT began moving its footprint from Area 1 in the northern part of the country to Area 3 south of Seoul. During this time, two battalions and the brigade headquarters moved from Camp Hovey to Camp Humphreys near Pyeongtaek, South Korea.
All members of the Devil brigade are expected to return by mid-July.
The post Fort Riley brigade returning home appeared first on News Radio KMAN.
Source: KMAN Local News