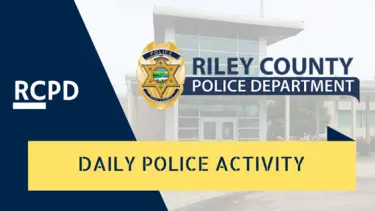 Riley county Police Officers responded to a report of an injury accident at 6th and Osage Streets at approximately 2:10 PM Monday. When officers arrived on scene, they found Joshua Haus, 19,  of Manhattan, suffering from injuries after the motorcycle he was riding was struck by a GMC Terrain, driven by Diane Washington, 67, of Manhattan.
Haus was transported to Via Christi Hospital in Manhattan for treatment of his injuries. Washington was cited for failure to yield right of way at a stop sign.
###
A Manhattan man faces a $14,000 bond following his arrest Monday.  Tyler Mann, 20, was taken into custody while at the Riley County Police Department on a Riley County District Court warrant for forfeiture of appearance.
###
A failure to appear warrant led to the arrest of a 41-year-old Manhattan man Monday evening.  Benjamin Kempthorne, 41, was taken into custody at the Riley County Courthouse approximately 5:35 PM Monday.
Kempthorne's bond was set at $10,000.
The post RCPD activity report 5/2/17 appeared first on News Radio KMAN.
Source: KMAN Local News