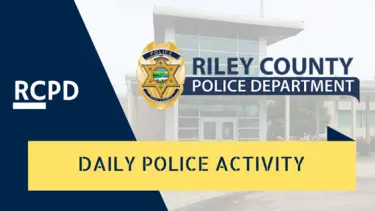 Gina Jones, 23, of Manhattan, was arrested in the 100 block of N. 4th St. on June 7, 2017 at approximately 11:15 AM. Jones was arrested on a Wabaunsee County District Court warrant for burglary and interference with law enforcement. Jones' total bond was set at $10,000.
Officers filed a report for aggravated robbery, aggravated kidnapping, and criminal damage to property in the 2200 block of College Ave. on June 8, 2017 at approximately 2:00 AM. Officers listed Mohammed Mujalli, 17, of Manhattan, as the victim when he reported that 2 known and 4 unknown suspects attacked him and took his cell phone, wallet, and cash. Mujalli reported that they also damaged his watch during the attack. The total loss associated with this case is approximately $1,232. Police ask that anyone with information contact RCPD or the Manhattan Riley County Crime Stoppers
The post Riley County Police Department Daily Activity 6/08/2017 appeared first on News Radio KMAN.
Source: KMAN Local News