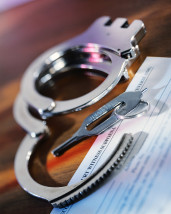 Junction City Police are announcing a domestic related arrest this past long weekend, with a 21-year-old Junction City man facing a $100,000 bond. A news release Monday indicates late Friday night, Officers with the Junction City Police Department were dispatched to the 500 block of West 3rd St in reference to a subject who had shot a weapon in the residence. As the officers were arriving in the area, the subject shot the firearm from the house striking the occupied residence across the street. A family member was able to disarm the subject as the officers made their way up to the residence and he was taken into custody after a brief struggle. No injuries were reported.
Shannon Michael Smelley Jr. was arrested on several charges including Domestic Damage to Property, Domestic Aggravated Assault, Aggravated Assault on a Law Enforcement Officer (3 counts), Criminal Threat, Battery on a Law Enforcement Officer, Shooting at an Occupied Dwelling and Felony Interference of a Law Enforcement Officer. Smelley is being held at the Geary County Detention Center on a $100,000 bond.
The post Junction City arrest after shots fired appeared first on News Radio KMAN.