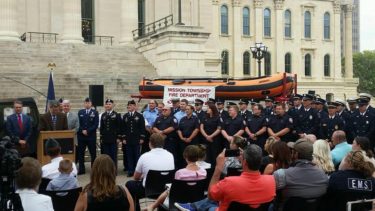 Four Manhattan Firefighters were part of a large group recognized Wednesday by Kansas Governor Sam Brownback, Lt. Governor Jeff Colyer, and Adjutant General Lee Tafanelli in a ceremony honoring Hurricane Harvey first responders.
Men and women from 16 state and local agencies who traveled to Texas to aid in Hurricane Harvey rescue and recovery efforts were recognized jointly. Boats that were taken to Texas for the search and rescue mission were be on display on south apron of the capitol as well.
The post Local firefighters recognized in Topeka ceremony appeared first on News Radio KMAN.