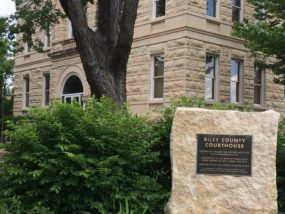 The arraignment for a Manhattan man charged with first degree murder and attempted first degree murder was continued to late November, following an appearance Monday afternoon in Riley County District Court. Steven Harris is the suspect in a deadly May shooting in the 2800 block of Nelson's Landing in Manhattan, that resulted in the death of German Gonzalez-Garcia, 39. Also shot during the incident but surviving was Adrian Ortega.
Harris was represented by Public Defense Attorney Gary West during the Monday court appearance, who told Judge Meryl Wilson  since ballistics results came in just before the October 13th preliminary hearing, he hadn't had time to have an expert review those. West requested a 30 day continuance. Judge Wilson continued the arraignment to November 27th, after Harris agreed to a waiver of his rights to a speedy trial.
West also asked to have the no contact order lifted for Harris with his "significant other" Cora Brown. Brown fled the scene with Harris after the incident. They were both apprehended later at a Motel 6 in Wichita.
West maintained since Brown was able to sit in on the preliminary hearing, her status as a witness had been looked at differently. However Judge Wilson indicated he wanted to hear Senior Deputy County Attorney Barry Disney's position, who is handling Harris' case for the state but was not present in the court room Monday. That matter was delayed until November 13th unless West and Disney come to an agreement before then.
###
In other Riley County court news Monday, a 32-year-old Manhattan man arrested in August for distribution of a controlled substance,  methamphetamine and heroin entered a not guilty plea. Billy Womack was one of several people arrested by Riley County Police during a three day period in August on drug-related charges.
A trial date of January 23rd and 24th was set for Womack.
The post Arraignment continued in Riley County murder case appeared first on News Radio KMAN.