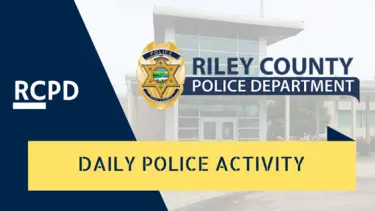 An Emmett woman faces a variety of drug-related charges following her arrest by Riley County Police Wednesday afternoon.  Christina Wahquahboshkuk, 42, was taken into custody in the 300 block of Colorado Street at approximately 3:50 PM. Wahquahboshkuk was arrested on charges of possession of marijuana, ignition interlock device, use or possession of paraphernalia and possession of opiates, opium, or narcotics. Her total bond was set at $10,000.
###
A Manhattan man faces a $20,000 bond for two failure to appear warrants.  Darryl Wheeler Jr., 46, was arrested while at the Riley County Police Department Wednesday at approximately 11:30 PM. The two warrants are from Manhattan Municipal Court.
The post RCPD activity 11/9/17 appeared first on News Radio KMAN.