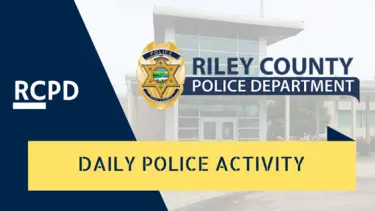 A Manhattan man faces a $20,000 bond following his arrest Thursday night.  Larry Jones, 46, was taken into custody in the 800 block of Colorado Avenue in Manhattan at approximately 10:05 PM.
Jones was arrested on a Riley County District Court warrant for failure to appear.
###
Riley County Police Officers filed a report for theft in the 400 block of South 3rd Street in Manhattan Thursday. Officers listed Wade Lewis, 60, of Somerville, Massachusetts as the victim when he reported an unknown suspect took electronics, a suitcase and miscellaneous items from his vehicle.
The total loss associated with this case is approximately $4,000. Police ask anyone with information contact RCPD or the Manhattan Riley County Crime Stoppers.
The post RCPD activity report appeared first on News Radio KMAN.