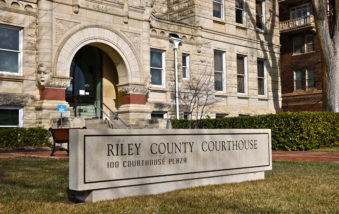 An April 23, 2018 trial has been set for a Manhattan man charged with leaving the scene of a hit-and-run accident in April. Nicholas Blaha's arraignment was held Monday in Riley County District court. Blaha is also charged with aggravated battery and was named a suspect in May in the case involving Amber Wilhelm, who suffered serious injuries after being struck while crossing Bluemont Avenue in Manhattan on foot shortly before two a.m. April 14th of this year. She was transported to Via Christi and then lifeflighted to Stormont Vail in Topeka for her injuries.
KMAN reported in great detail on Blaha's November 14th preliminary hearing, with a dozen witnesses taking the stand.
Also in Riley County Court today Monday, pretrial discussion was held for a Andrew Gibson, a Manhattan man facing first-degree murder charges in the death of three month old Serenity Reich in the 500 block fo Stone Crek Drive in May of last year. The state was represented by Riley County Senior Deputy Attorney Barry Disney and Deputy County Attorney Bethany Fields and Gibson was present with defense attorneys Gary West and Sarah Ikena. The judge was present via teleconference.
There were no motions made during the pretrial , with general discussion about jury selection and the process involved. Witness and exhibit lists are being prepared. The trial is set for January 16th.
The post Trial date set in Manhattan hit and run case appeared first on News Radio KMAN.